Find out about our volunteer roles
Join our Local Committee
Local Committee Volunteer
We are in the process of building a new Local Committee to capture the views and concerns of all local residents in Enfield through a knowledgeable and passionate network of Local Committee Volunteers. 
We are currently looking for people who are living, studying, or working in Enfield, linked to local networks, and passionate about amplifying local voices. We're especially interested in people from groups who find it most difficult to be heard.
You will be invited to a Committee Meeting six times per year to discuss what you've been hearing from your community of interest. Your knowledge will enable us to raise our concerns with commissioners and service providers and in turn, influence crucial decisions being made about local health and care services.
Find out how you will be able to guide and monitor our work. 
Community Outreach
Volunteer Community Outreach
Community Outreach volunteers are at the heart of the work we do. Our Community Outreach volunteers are 'out there' talking and listening to patients, community members and/or people who use health and social care services. If you enjoy chatting to people, have good listening skills, a little bit of spare time and an interest in health and social care this could be the perfect role for you.
Although we are working remotely at the moment during the Coronavirus pandemic, there are still opportunities for virtual engagement such as via the telephone and video calling. 
This year, 52 volunteers helped us carry out our work.
In total, they gave up 395 days to volunteer for Healthwatch Enfield.
I enjoyed many things. The team are kind and friendly, smart, organised and very capable in what they do. They were very accommodating to my needs and made sure that the tasks I was doing were useful for the Comms Manager and helping me develop skills at the same time. 
Healthwatch Volunteer
Enter and View Assessor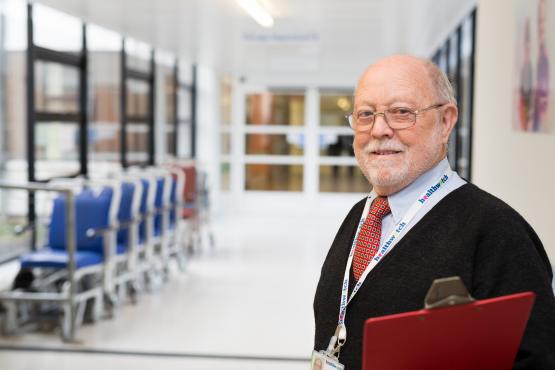 Volunteer Enter and View Assessor
Healthwatch Enfield has statutory powers to visit a wide range of care settings such as hospitals, primary care services, care homes, adult residential units, and day centres to name a few, to listen to people's experiences of these services and to publish reports based on the visits. As an Enter and View Assessor you will receive training to become Healthwatch Enfield's Authorised Representative to carry out the visits to local health and care services, suggest improvements, and draw attention to good practice.