Overcoming communication barriers with the Bulgarian Community to raise awareness of health and care services
We have formed a partnership to carry out some outreach work to help local Bulgarians to discover and access the health and care they need.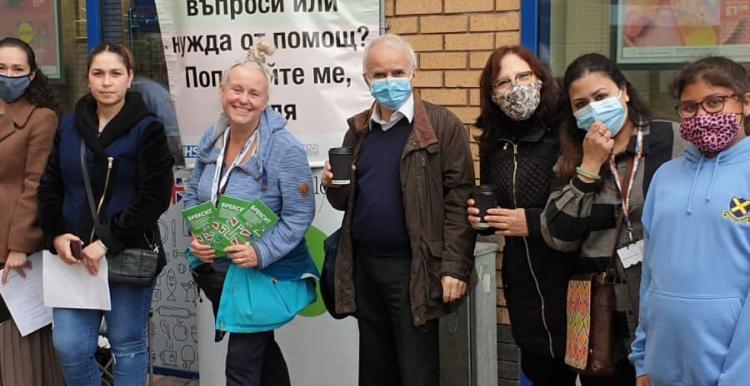 Edmonton Community Partnership are leading on a large-scale project to support the increasing numbers of Bulgarians who have migrated to London in recent years and found a home in Edmonton. As a result of language barriers and social isolation, there are many families who are unable to become aware of and then access the health and care services they may need and are entitled to as a resident.   
The Edmonton Community Partnership's response has been to hire a Bulgarian Support Worker to connect with local families from Bulgaria and across Eastern Europe to offer additional support. This has ranged from providing food, home essentials and internet access throughout the coronavirus pandemic to online community meetings going over the process for securing EU Settlement Status, conducted in their native language. 
We have formed a partnership to carry out some outreach work to help local Bulgarians to discover and access the health and care they need. 
Sue-Jane O'Keefe, Community Engagement Officer at Enfield Healthwatch, talks about our work: 
"I was shocked to learn that 16,000 people are not registered with a GP in Enfield, which means their only access to medical services is at A&E's.  

"The thing is, the extremely passionate Bulgarian worker, Nishan Dzhingozyan, explained that some Eastern European communities can only speak their language, not read it, so printing leaflets is really not the way forward. Instead, Nishan set up information sessions in school halls, and arranged for notes to go into the children's school bags, so these sessions were really well attended, but then Lockdown happened. So Turkish and Bulgarian radio stations, Facebook, and other social media streams, alongside telephone calls, were the only way to pass on important health messages.  

"So getting creative with the way we communicate in the community to overcome language barriers. Healthwatch Enfield joined Nishan and other organisations from the partnership in the shopping Centre at Edmonton Green to help sign people up to a GP, while he updated them on how to secure a 'settled' status. Language barriers meant we needed to be creative to communicate, and used our phones to record sentences, and were really thankful to staff who were able to help translate. Despite our initial reservations, we were delighted to sign up 18 people to be registered with a local GP. This is a really good start and time really well spent! 

"Our next outreach session was at the Ark Community Food Bank, and it was the first time in over 15 months that the team had conducted face to face engagement indoors following the COVID-19 outbreak.  

"It felt really strange trying to speak with people while wearing a mask, but I handed out over 50 cards to explain that they do not need to prove status or have ID to register with a GP. I had an amazing little helper, a 10-year-old Bulgarian child who offered to help translate for me, and helped to build trust, as this community are generally vary wary of 'the system. 

"I approached a young woman who had a gorgeous little baby, to find that she did not have a GP and her child had not been seen by a health visitor. She was keen to find out how she could access a COVID-19 vaccination and I was able to guide her to a local walk-in session that day." 
Some individuals within the community prefer to travel home to get medical treatment, rather than get assistance in the UK, and are not aware of NHS services here they can access. This is largely because the same services are not available in their home countries. 
A vast amount of support and information sharing is required for the Eastern European community to make a difference and raise awareness of basic NHS health and social care services. We need to ensure that this community has equal access to health and care, by understanding and building on the communication channels that work and working at this grassroots level to understand what's needed.  
We are proud to be able to play a small part in this fantastic and much needed local project.