Changes to Urgent and Emergency Care in London
How people access parts of emergency care in London is changing, with '111 First' helping them to get the right care, in the right place, more quickly.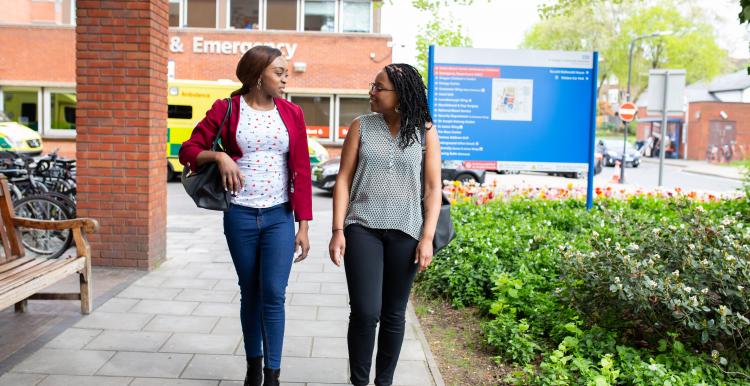 The NHS is changing how people access urgent and emergency care in London.
They are making it easier and safer for patients to get the right treatment at the right time, without waiting for long periods of time to be seen in an Emergency Department/ Accident and Emergency (A&E) department.
These changes are happening because there is still a risk to patients and hospital staff of catching Coronavirus, so it is important to reduce the risk of A&E waiting areas becoming overcrowded this winter.
The changes have been developed using the knowledge and expertise of hospital doctors, GPs, nurses, pharmacists, social workers, mental health specialists and NHS 111 teams in London.
Contact NHS 111 First
From 30 September 2020, the NHS is asking patients with an urgent, but not life-threatening, health problem to contact 111 first if they think they need to attend A&E. This can be done either online or by phone 24 hours a day, 365 days a year, and the service is free to use (including from all mobiles).
More doctors, nurses, pharmacists, paramedics, dental nurses and trained health advisors than ever before are available to look after Londoners as part of the service.
NHS 111 is already able to book same-day appointments at most pharmacies, GP practices and Urgent Treatment Centres so patients receive the right type of care for them. NHS 111 will assist if emergency care is needed, such as sending an ambulance.
From 1 December 2020, NHS 111 will also be able to book appointment timeslots at their local A&E departments for patients who need them. This means that patients who need urgent care, which is not life-threatening, will have an allocated time to attend and be treated – helping to reduce long waits and overcrowding in hospitals. This started from the end of September with five hospital sites (Royal London Hospital, North Middlesex Hospital, Chelsea and Westminster Hospital, Queen Elizabeth Hospital Woolwich, Croydon University Hospital), but will be possible at all hospitals across London by the beginning of December.
Patients with life-threatening emergencies should continue to call 999.
Ringing 111 first will mean:
• More patients will speak with a senior medical professional earlier and get the right treatment first time.
• If someone needs an urgent face-to-face assessment or treatment, this can be arranged immediately, without any further delay - leading to shorter waiting times for all patients
• By advising people where and when to go, we can control queues in ED/A&E waiting rooms and lower the risk of catching or spreading Coronavirus
Some people may still walk into A&E for treatment and these patients will continue to be seen.
Patients needing emergency treatment will be seen first, however those whose conditions are not as urgent may need to wait elsewhere or will be asked to return for a later appointment.
Using 111 first will ensure that patients get quicker, safer care in the right environment and will help better control the risk of the virus spreading.
About NHS 111
NHS 111 helps people get the right physical and mental health advice and treatment when they urgently need it.
Using a special tool designed by leading doctors, trained health advisors can assess a patient's health needs, give advice, refer them to the most appropriate care, or send an ambulance in case of an emergency.
The health advisors are supported by clinicians who can take over whenever they are needed. More than two in three Londoners who call the 111 service speak to a nurse, doctor, pharmacist or paramedic.
As well as making direct appointments at almost all London's GP surgeries, all GP Hubs and all Urgent Treatment Centres (UTC), NHS111 can also refer to over 1,600 London pharmacies for urgent and repeat medication advice. Callers with urgent dental issues can get advice on managing their pain, or can be booked into an emergency dental appointment, if needed.
111 clinicians (nurses, doctors, paramedics) can see individual care plans, mental health crisis plans and lists of shielded patients, which means that they can give patients the best care possible.
If someone calls 111 more than once, information about their original call will be available to the health advisor to prevent people having to repeat themselves.
For more information on when and how to contact the NHS for urgent or emergency medical help, or how to contact NHS111, please visit the NHS England website.
Frequently Asked Questions
The Royal College of Emergency Medicine and Healthwatch England have produced a list of FAQ (Frequently Asked Questions) about the 111 First scheme. You can download these below.