Join our online Q&A event on 16th September 11:00am – 12:15pm about the flu jab
Don't miss your chance to put questions to local GPs, Public Health Enfield and the North Central London Clinical Commissioning Group about the flu jab!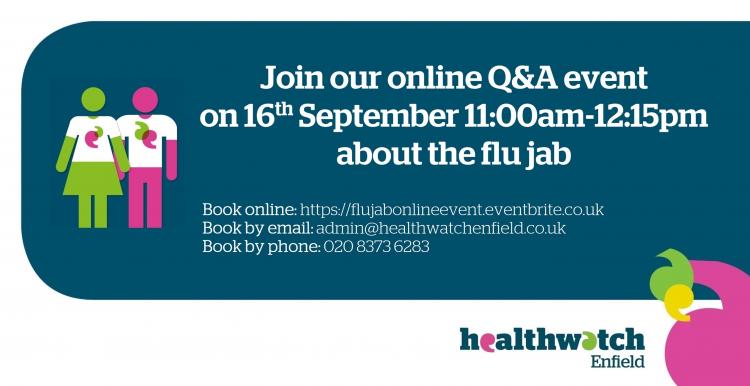 This event has been organised for you as local residents of Enfield to hear about the roll out of this year's flu jab programme, in partnership with Age UK Enfield and Enfield Health Directorate of North Central London Clinical Commissioning Group (CCG), formerly Enfield CCG, as well as Public Health Enfield and local GPs.
During this virtual, online meeting, we're providing a unique opportunity to hear directly from local services as they begin planning this years flu jab programme, during the current Coronavirus outbreak
You may well have questions you'd like answered such as, who is eligible for a free flu jab and how you can book an appointment to have one. You may be wondering how GPs are planning on giving the flu jab this year.
Whatever your questions, please detail these as you log on to book your place, or email us (admin@healthwatchenfield.co.uk) or call us (020 8373 6283) by Wednesday 9th September.
Note that you must ask your question in advance and by the deadline. Due to the likely numbers joining, we will be unable to take questions on the day. Please let us know as soon as possible, if you have any access needs/ require a BSL interpreter. We look forward to you joining us.